School Air Conditioning Installation
---
SCHOOL AIR CONDITIONING INSTALLATION
Professional school air conditioning installed to the highest standards in Brisbane and South East Queensland
CONTACT US NOW: Ph 1300 165 663, enquiries@acerservices.com.au
Students in a classroom generate a lot of heat, even when they are just sitting quietly.
So, if you want your staff and students to remain fresh and alert, you need a school air conditioning system that can handle hours of heavy-duty work — a typical domestic unit just won't cut it.
That's why Acer Services recommends Mitshubishi Heavy Industries air conditioners that can handle the long hot Queensland summers and will operate economically for years.
At Acer Services, "the difference is the detail". This means you can trust our skilled air conditioning technicians to carry out your work to the highest possible standards.
We comply with all Health & Safety regulations and guarantee minimal disruption to students and staff.
Acer understand the unique requirements of School Air Conditioning.
Finding the right air con solution for your classrooms, staffrooms, meeting rooms, and libraries requires a different approach to home air conditioning and even commercial air conditioning. We know how to install school air conditioning, and it shows. We have looked after the air conditioning needs of numerous schools, including:
Browns Plains High School
Mudgeeraba State School
Wynnum Guardian Angels School
Aspley East State School
St Rita's College
Sunnybank State School, and
Park Ridge State High School
Customer testimonial
"Just wanted to let you know that your team is the best! Others have left a huge mess… but your guys even asked where the vacuum was to clean up! Please pass on my thanks to all of them and thank you for making everything such a smooth process. I will no doubt call again soon for another project we have."
Karina S, Park Ridge State High School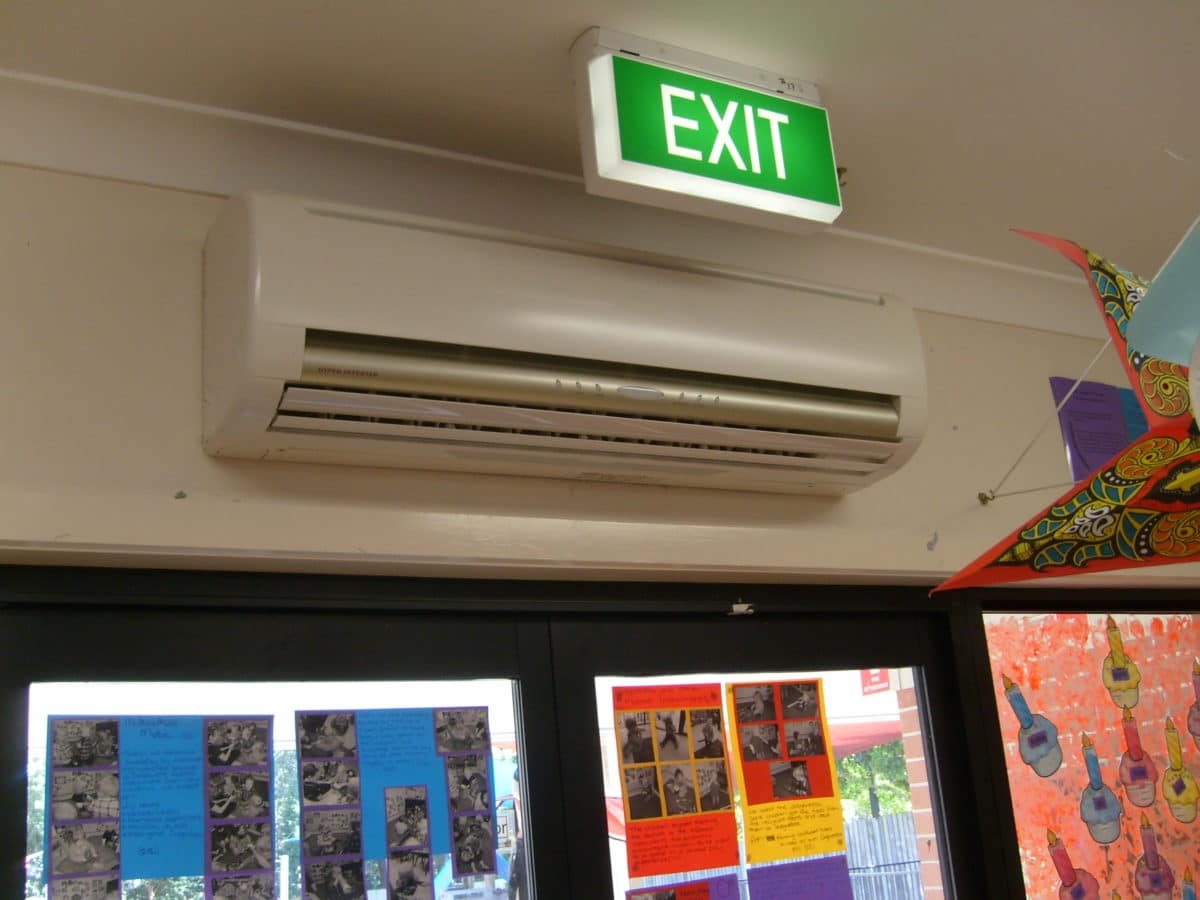 Custom-tailored school air conditioning solutions
Acer have over 15 years of experience finding the best air conditioning solutions for schools, and if it's taught us anything, it's that a one-size-fits-all approach just won't work. When you trust us with your school air conditioning, you'll be confident that your system will work efficiently for years to come.
Our experience in the education sector has made us well aware of the budgetary constraints many schools suffer. But that doesn't mean you have to buy inferior school air conditioning – Acer will do more with less – leaving you with funds for all the other things your school needs. Furthermore, we're so confident that our MHI school air conditioners – used extensively in the 'Cool Schools' Program – will stand the test of time, we offer a full five-year commercial warranty!
This is because tough, durable and powerful systems from Mitsubishi Heavy Industries offer:
Lower running costs,
Fewer breakdowns, and
Massive savings because you won't be constantly paying for repairs.
Acer Services provide air conditioning for schools in Brisbane, Gold Coast, Sunshine Coast, Ipswich and Toowoomba. To find out how we can assist you with your school air conditioning, simply click here to contact us.
---