When to use a Floor Mounted Air Conditioner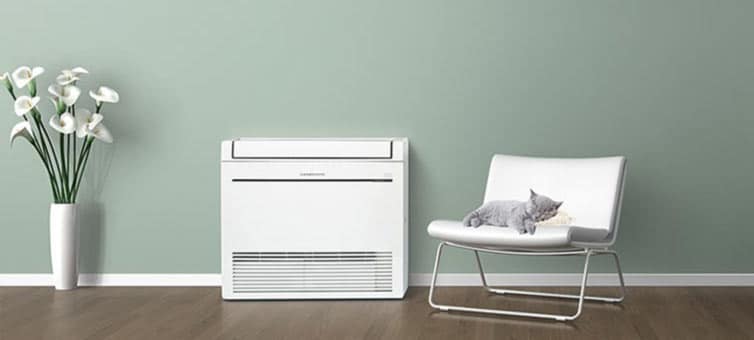 No space on the wall? No worries! A Floor Mounted Air Conditioner (also known as a Floor Console or a Floor Standing Air Con) can keep you cool instead.
It's a common misconception that if you don't have the space for a standard split system wall air conditioner, you have no choice but to install ducted air con.
But this is not always the case.
A Floor Mounted Air Conditioner is often an affordable and highly effective solution.
How Do They Work?
Unlike the name would suggest, a Floor Mounted Air Conditioner isn't actually mounted to the floor
It's simply a compact air con unit that can be installed low on a wall, sitting just above the floor. They can also be mounted in a recessed or semi-recessed space and even directly under a window frame.
Cold air is distributed from vents on either the top or the bottom of the unit, or a combination of both.
In situations where there is not enough wall space, they can even be installed right up on the ceiling!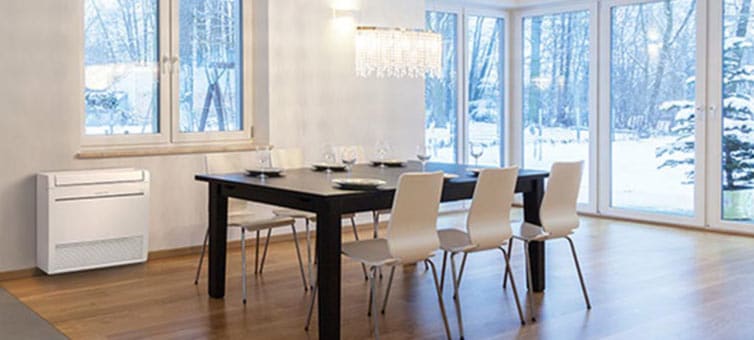 When is it best to use a Floor Mounted Air Conditioner?
Suitable for either home air conditioning or commercial air conditioning applications, these types of units are ideal for:
When it's not possible for the outside unit to be placed back to back with the inside unit – floor consoles are great when it's possible to plumb through the floor!
Rooms where there are a lot of glass windows and doors.
Difficult or awkward to access wall areas.
Rooms with low and angled ceilings.
When you want the unit to have minimal visual impact such as in a room with beautiful paintings or other decorations on the wall.
Do they work as well as other types of air conditioners?
Definitely! Floor mounted air conditioners have many of the same features and benefits as standard split systems.
Many have wide-angle louvres and auto-swing capability to efficiently distribute cool air right across the whole room or area.
Ideal for home or office, they are available with full inverter control that can reduce operating costs by up to 30%.
Not sure if a Floor Mounted Air Conditioner is suitable for you? Just ask Acer Services!
Like with every air conditioner we install; Acer Services can recommend to you which type of unit will be most suitable for your needs and the type of room the unit will be going in to.
For more expert help and advice, talk to one of our friendly, helpful team members. Simply click here to contact us.