Why your airconditioning drain must be installed correctly
Cooled air is dry air, which is why an airconditioned environment is so comfortable and refreshing during the humid summer heat. But that moisture that was in the air has to go somewhere — and this is where your airconditioner's drainage system comes in.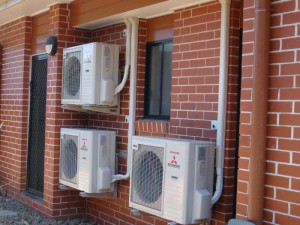 With a ducted system, there is a main drain and a secondary drain which acts as a backup. When the airconditioner installation is done correctly, the main drain takes the water away to the house's guttering. This means that the water flows away unnoticed, as it should.
However, drains can and do become blocked. When this happens, water then flows to the secondary drain, and this is where quality air conditioning installations make a difference.
When the installation is done right, the secondary drain finishes in a visible place — so if it starts dripping, you'll surely know about it and can arrange for a visit from your airconditioning service.
However, when installed incorrectly, sometimes both main and secondary drains flow to the gutter — leaving you unaware of any blockage problems until you see water leaking through the ceiling! Check out our free Buyer's Guide to learn more before you buy.
Why airconditioning systems become blocked
The main drain can get blocked at any point along the length of the drain, including at the exit point or, in the case of ducted air conditioners, the "p" trap.
Over time, sludge and slime can build up within the "p" trap. The cleanliness of your airconditioner might be the culprit — if you don't clean your air conditioner filter regularly, the dust can get into the main drain and turn into mud.
It can also be a matter of the seasons. During winter, water doesn't flow through the "p" trap as the ducted airconditioner is being used to heat your home. The old water and sludge can evaporate during this time and when summer comes around again, the sludge has become a blockage.
Split-system airconditioners don't have a "p" trap, but they can still become blocked by wasps nests, geckos, ants and dust, the same as ducted airconditioning systems.
How will I know if the main drain is blocked?
For both kinds of air con systems, the secondary drain is there as an outlet for the water if main drain gets blocked — so if you see the safety drain dripping, you know it is time to call your airconditioning servicing agent.
ACER's quality service
Here at ACER, our slogan is "the difference is the details" — and this means that the unseen parts of the job are just as important.
When we install an airconditioner, we make sure that even the finer details such as visible secondary drain placement are attended to.
When we service your airconditioner we also pour a special flushing agent down to clean the "p" trap to help prevent a blocked drain in the future.
And naturally, if we are servicing a ducted or split system airconditioning system that we didn't install ourselves, we will let you know if we see any potential problems.
So whether you need a ducted or split system airconditioner installed, your airconditioning system needs servicing or you have a blocked drain, contact ACER Services. You can relax knowing we always deliver a top-quality job.