Choose Quality Lighting and Electrical to Showcase Your Pool!
If you are building a pool this summer, you are most likely landscaping your garden and installing outdoor lighting to really show off your new entertaining area.
Here at Acer Services, we really know what we're doing when it comes to outdoor lighting and electrical — and how to help you save power in the long run.
SAVE POWER WITH TARIFF 33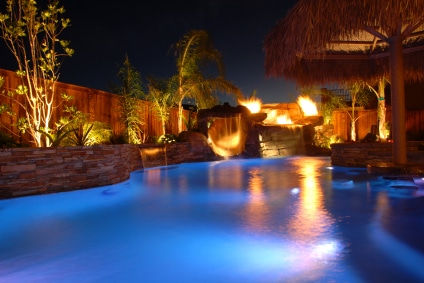 Your pool's pump will be using power regularly — but the cost can be reduced if you use a different connection and an energy-efficient motor.
Tariff 33 is an alternate power connection that can be used to power your pool pump for a reduced power rate on off-peak times. After an Acer Services electrician has connected your pool pump to Tariff 33, you'll begin noticing the savings right away.
Your pool pump can also be changed over to a more energy-efficient DC drive motor.
To find out more about ways to save power around the home, click here.
ENJOY A FULLY INTEGRATED LIGHTING SYSTEM
Forget about traipsing out to the filter box, or fumbling around for a switch in the dark when you want to turn on the outdoor lights or pool lights.
Acer Services electricians can install the switches for your outdoor lights wherever is most convenient for you — so you can enjoy turning on your garden or pool lights right from your living room.
BRISBANE ELECTRICIANS WHO WORK WITH YOUR LANDSCAPER
At Acer Services, we pride ourselves on our attention to detail. We will work with your landscaper or contractor to safely install outdoor lighting across different zones, including the BBQ/entertaining area, pool, or to highlight certain trees.
For outdoor lighting that will really showcase your new backyard, contact Acer Services today!