Featured Job: Signage Installation at Toro St Overpass, Brisbane
Acer Services is often hired to complete interesting and challenging jobs, and we wanted to share one of our latest — a lit up sign at the Toro St Overpass, Holland Park. (While you're here, check out our free, downloadable Buyer's Guide!)
Our electricians were commissioned by DigiCorp, a sign manufacturer contracted by the government to install signage. The Acer Services team was asked to wire up a sign on the motorway after hours — a job which required working closely with traffic control.
The Job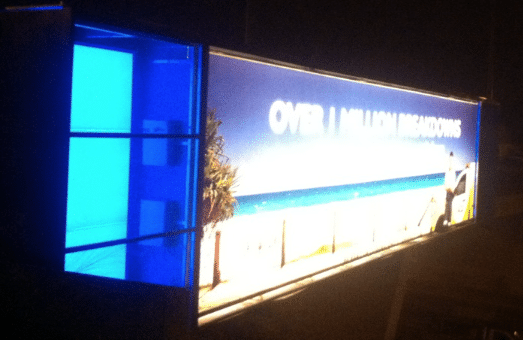 The billboard was made up of a combination of a large fluorescent sign, with two additional LED-lit signs either side. The fluorescent lights were controlled by photoelectric cells, which automatically turn on at sundown as the natural light diminishes.
As part of an electrical installation of this size, Acer Services electricians had to design the circuitry and photoelectric cell control system. The team was supplied with the case of the sign and two large LED lights for either end.
After designing the system, the lights had to be wired and the full billboard installed. The completed sign size was 12m X 4m — so installation was no small task!
To find out more about Acer Services' commercial electrical installations, click here.
The Challenges
Because of the sheer size of the sign, there were logistical challenges that had to be carefully thought through when it came to installation.
To minimize the impact on traffic, job was completed at night. Auxillary lighting was required and the sign had to be craned into place — all of which mean disruption to traffic. Traffic Control was required for traffic lane closure and management on the busy Holland Park motorway to allow the electricians access.
Because of the outdoor location of the billboard, the electrical feed from the nearby Energex power supply had to be designed to be both weatherproof and to meet all safety standards, which meant encasing it in steel conduit to protect from the elements.
No matter the job, big or small, Acer Services loves rising to the challenge. For help with your electrical servicing or installation needs, don't hesitate to contact Acer Services and speak with an experienced professional.