Don't let your home air conditioning installer let you down!
At ACER Services, our motto is "the difference is the detail". We follow this in all our work — and it really sets us apart from the crowd when it comes to home air-conditioning installations. We want to make sure that our installations add value to your home! See our free, downloadable Buyer's Guide for more.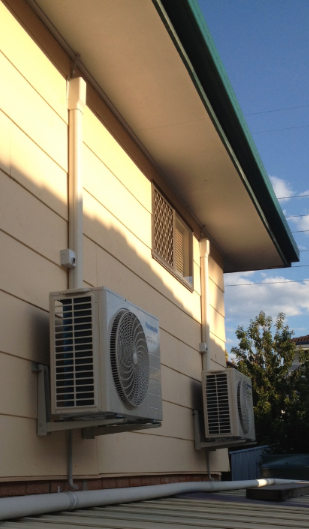 When talking to our customers, it is clear that there are a range of prices and standards when it comes to aircon installation. In some cases, people are disappointed when they find that the cheaper installation price (which seemed attractive initially) means that the finished job isn't up to scratch.
The following is a quick checklist so you can make sure you are receiving value from an air conditioning installation…
1. Isolator Switches
The cheaper option when installing air conditioning is to hardwire the aircon unit directly to the switchboard. While doing this still meets industry standards, we see it as a shortcut.
We put isolator switches onto the outdoor units when we install home air conditioning for two reasons. Firstly, it means you can disconnect your unit to protect it from strikes in a storm.
Secondly, it means you can prevent your home safety switch from repeatedly tripping if your air conditioning system has a fault. In this case, the power supply to the unit can easily be disconnected using the isolator switch, until your local electrician is available to repair it — and you can still enjoy normal power in the meantime.
2. Proper Drainage
One of the great benefits of air conditioning is that it extracts water from the air, leaving the room dry and comfortable. However, this water has to go somewhere and this is where your air conditioner's drainpipe comes in.
We often see situations where the drainage has not been dealt with sufficiently, and has lead to problems such as water logging, oversaturated ground, watermarked pavers and even damage to the building.
To prevent this, we will do the job properly. Where possible, we will run the air conditioner's drainpipe into your home downpipe so that the water is quickly and easily carried away, and won't pool around your air conditioning unit.
3. Vermin Proofing
The installation of air conditioning means that there are going to be entry holes into the home for pipe work and electrical. Unfortunately, these holes can also allow in unwanted visitors such as rats, mice, and insects, if the workmanship is not up to an appropriate standard.
We sometimes talk to people who have suffered years of pest problems, only to find that the cause was a small gap left unsealed when their air conditioning was installed.
If we have to drill any holes for wiring or piping, we will ensure that we properly cover and seal the outside wall penetration so you aren't facing a potential vermin problem later down the track.
4. Pre-made poly slab supports
The external air conditioning unit needs to sit on a firm foundation. This ensures that everything is neat and tidy and external pipe work isn't stressed.
Instead of just propping up loose bricks under each corner of the air conditioning unit, we install our units onto pre-made poly slabs.
The slabs we place beneath outdoor units are 50cm X 1m, and look much nicer than a couple of bricks. A complete slab also prevents grass from growing up underneath the unit and causing problems.
So remember: long after the cost of your home air conditioning system installation is forgotten, the quality of the job will linger on. For a thorough installation that won't leave you calling for extra help, contact ACER Services today!