Getting your house rewired by a local electrician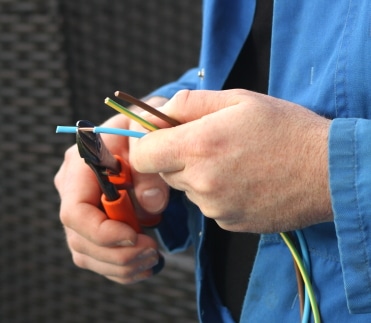 Rewiring your house can be required by law, necessary for home and property upgrades, or an imperative safety measure. With electrical works of this size, it's wise to make the most your house rewire by considering your options before getting started.
When to get a house rewire
There are several situations when a house rewire by your local electrician will be highly beneficial or absolutely necessary. These include living in a house with old wiring which may have become unsafe, undertaking renovations, and adding electrical equipment that places a high demand on the house's electrical system.
Replacing old wiring
In older houses, particularly Queenslanders, there is a high chance that the wiring is out of date. While this can cause problems like random short-outs, more significantly it has the potential to be a major fire hazard. All too often people fail to address old wiring and suffer devastating consequences.
Signs that your wiring is outdated include:
• Constantly blowing fuses
• Short-lived light bulbs
• The presence of black, rubber coated wires (modern cables are grey or white)
• Metal conduit running to the sockets, switches or lights
• Round pin plugs (in extreme cases with very old homes)
Increasing capacity
When you get major additions to your home or property like an air conditioner, pool, or backyard shed, you will usually need electrical works done so your wiring can handle the load. Air conditioners and other appliances add a lot to the household load, and some pools or spas may require a large amount of electricity to power the pump. The power needed in a shed will also draw extra electricity, particularly if large power tools are being used.
Lifting a house
If you're transporting a house to a new location, the work doesn't stop when you put it back together. Most councils require any lifted house to be rewired. As lifted houses tend to be older, this law safeguards against antiquated wiring staying in use and posing a risk.
Electrical works when renovating
If you're renovating, you will probably need to move or add outlets, power points and light switches. Getting the wiring done for these jobs also presents the perfect chance to enhance your renovated home with two-way switches, dimmers and motion sensors. If the house is an older one, this is also a good time to have your local electrician check existing wiring and upgrade it if necessary.
How much time to allow
A house rewire typically takes three to ten days. We often recommend that if possible we do it while you're on holiday, as that way we won't need to make the house safe at the end of each day, which makes it quicker and cheaper for you.
The time taken also depends on whether you are moving any power points or outlets. The less these are moved, the less time needed for cutting through walls and creating space. If you are moving power points, weatherboard and plasterboard are typically quicker and easier to cut through than brick.
The perfect chance for additional electrical works
If you're going to the effort of getting your local electrician to rewire your house, now is the time to think about any other wiring you could need in the future. Carefully consider your options for extra features you might want down the track – whether they be a pump, security system, bathroom fan, or even two-way light switches. It pays dividends to get your rewiring work done all at once. Plus, you will have all that extra electrical work out of the way as well!
Local Brisbane and Gold Coast electricians you can count on
At Acer Services, we're committed to providing you with reliable service at high standards. Our electricians' skill and attention to detail means we will give you the best possible results on any electrical job, whether big or small.
Acer electricians service Brisbane, the Gold Coast, the Sunshine Coast, Ipswich and Toowoomba. Contact us today to talk to our friendly team and get the help you need.