The importance of cleaning your air conditioner's filter
Whether you have a ducted or split system, you want your air conditioner running in peak condition to keep you cool during summer. However, if your airconditioner's filter isn't clean, it can really slow down the cooling capacity of your unit and result in other negative flow-on consequences.
Below are just a couple of reasons why it is important to keep your air conditioner's filter clean…
Dust collects on the air conditioner's evaporator coil
Your airconditioner's filter is only as good as what it can handle. This means that if your filter is already clogged with dust, any more dust that comes through the unit is not going to be caught by the filter. It will pass through the fan and accumulate on the cooling coils, which are covered in condensation.
The dust covering the coils slows down the airconditioning unit's effectiveness and increases running costs. Worse, some dust can wash down with the condensation and collect in the drain, blocking it with sludge. Remember that blocked drains can be a problem for both ducted and split systems.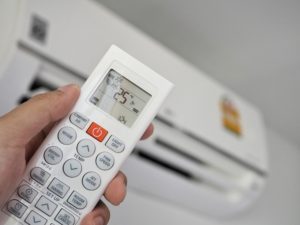 Dust can irritate allergy sufferers
Dust which accumulates in the filter can make the airconditioning unit smelly and odourous, and attract dust mites and other bugs.
Extra dust that blows through an overloaded filter and is re-distributed around the room can also be irritating for allergy sufferers. If a member of your family becomes sick or has an allergy flare-up, as well as taking normal medical precautions, remember to call your air conditioning technician— an overloaded filter may be contributing to the problem.
Dust from your airconditioner marks your ceiling
When the filter is dirty, the extra dust can mark the ceiling. This is often seen when dust-filled air is blowing against the ceiling/tiles around ducted airconditioning vents at commercial facilities, or against a lounge-room wall from a residential split system unit.
Call the professionals
It can be easy to clean the filter, but there are other aspects that the Acer team will check when they service your unit. Because many of our technicians are dual-qualified, they are able to attend to both airconditioning and electrical specifications such as gas levels/pressure, the sealing of threaded fittings and testing for electrical problems.
That's why even if you do check your filter yourself, you should still make a note to get your airconditioner professionally checked by Acer Services – particularly before you will be using it regularly (such as the lead up to summer). For residential units, airconditioner manufacturers recommend a service and check once a year.
For commercial units, workplace health and safety regulations say that the airconditioner should be checked and serviced monthly, including the filter.
Acer Services' experienced technicians install and service air conditioning units across Brisbane, the Redlands, Ipswich, Toowoomba and the Gold and Sunshine Coasts — so they really know their stuff. For a quality airconditioner service or filter clean, don't hesitate to contact the friendly Acer Services team today.