Air Conditioning Service: Maintaining your air conditioning unit
"A stitch in time saves nine"…and maintaining your air conditioning unit is no different!
Keeping your office or home air conditioning in good working order means:
keeping it cooling and heating effectively,
keeping it safe,
keeping down energy bills
… and most importantly, it can mean significant long-term savings.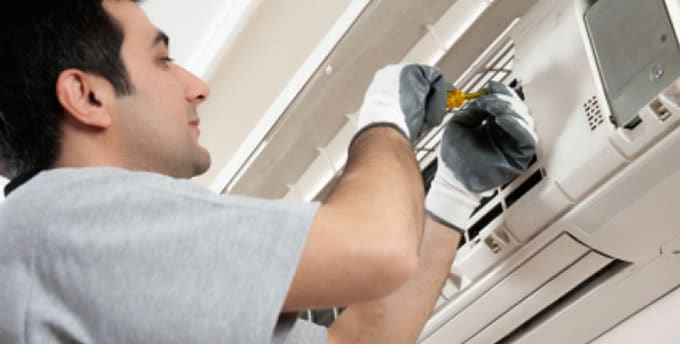 A regular air conditioning service will give you peace of mind and significant long-term savings.
There's nothing worse than dealing with costly repairs and going without air conditioning for days or even weeks, when a low-cost air conditioning servicing program was all that was needed.
Timing
The Australian Standard recommends that air conditioning systems be checked monthly in commercial premises, although many businesses opt for a quarterly air con service. Home air conditioning should be serviced at least once a year to check for any faults or potential breakdowns.
Cleaning the air conditioner's filter
Whether you have a split-system or ducted air conditioner, keeping dust from overloading the filter is one of the most important reasons for air conditioning servicing. If dust continues to pass through the air conditioning unit once the filter is full, it will slow down the air conditioning's effectiveness – greatly increasing running costs. In many cases, it can eventually block the drain. Accumulated dust also gives off stale, musty odours and gets blown back around the room, creating dirty marks around the vents on the ceiling or walls and often irritating allergy sufferers.
Mechanically checking the unit
When you get an air conditioning service, the unit itself will be mechanically checked. Damage from hail or other objects could compromise the overall function or individual parts of the air conditioning.
If the unit doesn't get a regular health check, small parts can cause big damage! An innocent-sounding rattle or squeak can become a much larger problem if prompt action isn't taken. One of our clients recently had a situation where a tight bearing that had been squeaking in protest was left to run rather than being serviced. As a result, the increased load on the motor over an extended period of time caused advanced problems, leading to a total failure which could have easily been avoided.
Leave it all to us with a preventative air conditioning maintenance program!
As you now know, getting your air conditioning system a regular service will let it provide you with good quality and cost-effective climate control in return. But we all lead busy lives and often it's too hard to remember to book in an air con service on a regular basis. Instead, you can sign up to a preventative air conditioning maintenance program, and we'll arrange a service each time one is due.
Acer Services' experienced air conditioning technicians and electricians provide top quality air conditioning installation, air conditioning servicing, and electrical works across Brisbane and the Gold Coast. Our team provides valuable advice, high quality products and prompt, professional service. Contact us now to get the help you need.