Keep your home safe from crime with security lighting from your local electrician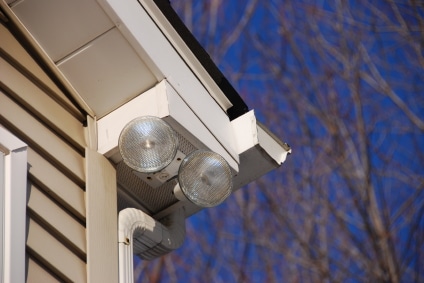 Crime rates are growing across Queensland, with nearly 2,000 robberies in the last financial year. As protecting your home, warehouse or office is becoming more important than ever, it's vital you put in the measures necessary to keep everything safe. Security lighting is a practical, effective way to ward potential burglars from your premises, protecting your property and giving you peace of mind! Check out our free, downloadable Buyer's Guide to learn more!
Electrical work that functions around the clock
Security lighting is a valuable tool for security and safety. It acts as both deterrent for burglars and vandals, and detector for you to easily see if someone does trespass on your premises. Security lighting can be more than just the lights themselves – your local electrician can install automatic systems such as motion detection and timers to maximise the effect of your security lighting.
1. Motion detecting security lighting
Motion detecting systems are one of the best options when choosing electrical lighting for security in your home. They use sensors to turn on whenever something comes in range, instantly alerting you of any trespasser. For this reason, if the lights are positioned correctly any unwanted visitors will find it very, very difficult to enter your home unseen. What's more, it creates a strong deterrent to anyone contemplating trespassing – they will be unnerved the moment they step into the detected area and find themselves illuminated.
2. After hours security lighting
A commercial electrician can also program security lights to turn on after hours. This is particularly useful for commercial buildings where people may leave before nightfall. After hours security lighting ensures trespassers can be spotted at night, and gives the impression of presence in buildings to discourage any troublemakers. Programmed lighting also means that security is taken care of during the weekend, without having to run lights weekend-long.
Install in a safe location
When getting your local electrician to install your security lighting, you need to consider its location. You particularly want to light up areas that need a lot protection, and/or are likely to be targeted. You should also set your security lights up high and in places difficult for vandals to reach – if they're tampered with their purpose will be defeated!
By installing security lighting, you will make yourself a hard target and would-be thieves will quickly move on.
The Brisbane electrician for all your security lighting needs
At ACER Services, we really know what we're doing when it comes to protecting you with security lighting and systems. Our electricians' skill and attention to detail means the lighting we install is optimal for your needs, whether on domestic or commercial premises.
We're committed to providing you with excellent service, so contact us now to get the home or office protection you need.