Featured Job: 3-phase power upgrade for Raby Bay jetty in the Redlands
When completing an electrical retrofitting, here at Acer Services we feel it is important to take care that we do not disturb the existing infrastructure. Check out the free Do's and Dont's Checklist we have on offer.
Whether it's a shop fit-out or an upgrade to air conditioning for a residential home, we are passionate about leaving everything as we found it if we can — and the power upgrade for this private jetty at Raby Bay in the Redlands was no exception.
The Job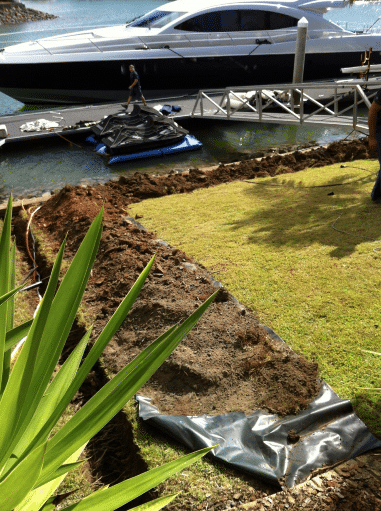 Raby Bay Jetty Redlands
The jetty had been installed years ago with single-phase power, and was surrounded by established gardens with limited access. However, the newly acquired vessel moored there had heavy power requirements for air-conditioning, refrigeration and other electrical equipment, and so the jetty needed an upgrade from single to three-phase power.
Acer Services' experienced electricians installed cabling, running from the switchboard at the house down to the power outlet and light at the jetty, 60 metres away.
In addition to this, stainless steel fittings were used to protect the power supply from the extreme outdoor conditions.
The Difference is the Detail
Acer Services prides itself on attention to detail. Due to safety regulations, the cabling between the house and jetty had to run in a trench and the appropriate depth. But in this case, digging a trench for the power cabling meant disturbing the grass.
Rather than trashing the homeowner's lawn, the Acer Services team carefully removed each section of the lawn to keep it intact. Furthermore, black polysheeting was laid down beside the trench to hold each section of turf as it was dug away, and to protect the rest of the grass from being covered in dirt.
Once the cabling had been laid, the soil and grass were replaced from the black sheeting, so damage to the lawn was kept to a minimum and the upgrade to 3-phase power was completed.
To read more about our dedication to neat and tidy electrical work, visit our residential electricians page here.
If you want some electrical work competed or are interested in a retrofitting but are concerned about potential damage, contact Acer Services today. You can relax knowing that our electricians are always conscious of leaving as little impact as possible.